Lean Six Sigma Training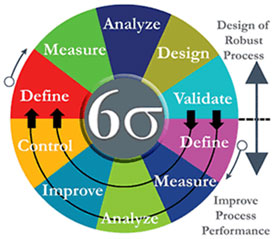 Six Sigma is a business management strategy originally developed by Motorola, USA in 1986. Your Lean Six Sigma certification will ensure you improve the quality of your process outputs. By identifying and removing the causes of defects (errors) and minimising variability in manufacturing and business processes.
The Lean Six Sigma certification uses a set of quality management methods, including statistical methods, and creates a special infrastructure of people within the organization (e.g. "Black Belts" and "Green Belts") who are experts in these methods. Each Lean Six Sigma project carried out within an organisation follows a defined sequence of steps and has quantified financial targets (cost reduction or profit increase).
There are actually four levels of Lean Six Sigma Training - Yellow Belt, Green Belt, Black Belt and Champion:
Six Sigma Yellow Belt
Yellow Belts are trained in the basics of Lean Six Sigma, and can typically carry out performance improvements within their teams.
Six Sigma Green Belt
Green Belt professionals are trained and certified at a more advanced level, in the tools and approach of Lean Six Sigma. They tackle change within their business in addition to their other responsibilities.
Six Sigma Black Belt
A Black Belt is fluent in the use of the Lean Six Sigma approach and tools, often delivers major performance or efficiency transformation for a business. Typically, they are Change Leaders within the business.
Six Sigma Champions
The Champions are those that sponsor performance improvement projects. Typically, they are managers of processes and business areas that are trained to pinpoint where transformation / improvement needs to occur they remove barriers to the implementation of changes.
| | | | | | |
| --- | --- | --- | --- | --- | --- |
| | | 5 Days | | | |
| | | 5 Days | | | |
| | | 10 Days | | | |
| | | 5 Days | | | |
| | | 2 Days | | | |