The EC-Council Centre of Advanced Security Training has arrived at Firebrand Training. On this intensive three-day Exploit Development Overdrive course, you will learn how to write your own application exploits.
Warning: This is not a beginner's course. It's highly-technical, with many hands-on labs. The course is right for you if you're an: experienced security professional, penetration tester, researcher or application developer.
You will learn how to:
Write your own exploits from scratch
Discover new vulnerabilities in applications
Use Metasploit as an exploit development framework
Exploit stack and heap overflows on both Linux and Windows
Bypass memory protection measures like DEP, ASLR, and Stack Canaries
Write your own shellcode on both Linux and Windows
Write stack- and heap-based buffer overflow exploits in both Perl and Python
Use debuggers like GDB, Ollydbg, and WinDebug
Note: this course doesn't include an exam, but you'll become Exploit Development Overdrive certified.
Accredited Training Centre of the Year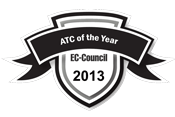 Firebrand Training has again won the EC-Council Accredited Training Centre of the Year Award, from a Training Partner network that has more than 450 training centres across 70 countries.
Jay Bavisi, President of EC-Council said: "The annual EC-Council Awards highlights the commitment and achievements of our global partners and trainers that have contributed to the information security community."
Other accelerated training providers rely heavily on lecture and independent self-testing and study.
Effective technical instruction must be highly varied and interactive to keep attention levels high, promote camaraderie and teamwork between the students and instructor, and solidify knowledge through hands-on learning.
Firebrand Training provides instruction to meet every learning need:
Intensive group instruction
One-on-one instruction attention
Hands-on labs
Lab partner and group exercises
Question and answer drills
Independent study
This information has been provided as a helpful tool for candidates considering training. Courses that include certification come with a certification guarantee. Pass first time or train again for free (just pay for accommodation and exams on your return). We do not make any guarantees about personal successes or benefits of obtaining certification. Benefits of certification determined through studies do not guarantee any particular personal successes.
Module 1: The Exploit Development Process
Exploit methodology
Fault injection
Fuzzers
Tools of the trade
Module 2: Introduction to Assembly
Linux assembly
Windows assembly
Writing and debugging assembly programs
Module 3: Writing Shellcode
Linux shellcode
Windows shellcode
Module 4: Stack-Based Buffer Overflows
Memory architecture
Fault injection
Ollydbg
WinDebug
Gdb
Metasploit tools
Writing stack-based overflows for Linux
Writing stack-based overflows for Windows
Module 5: SEH Exploits
Structured Exception Handling
SafeSEH Bypass
Writing SEH exploits
Module 6: Advanced Buffer Overflows
Bypassing DEP
Bypassing ASLR
Stack Cookies
Egg Hunter Shellcode
Module 7: Heap Overflows
Heap architecture
Writing heap overflows
Module 8: Advanced Metasploit Framework
Writing exploits for Metasploit
Advanced Meterpreter
Module 9: Format String Attacks
Writing format string attacks
​
Official EC-Council Courseware
CAST 616 - Exploit Development Overdrive
Firebrand Training offers top-quality technical education and certification training in an all-inclusive course package specifically designed for the needs and ease of our students. We attend to every detail so our students can focus solely on their studies and certification goals.
Our Certification Programmes include:
Intensive Hands-on Training Utilising our (Lecture | Lab | Review)TM Delivery
Comprehensive Study Materials, Program Courseware and Self-Testing Software
Fully instructor-led program with 24 hour lab access
Examination vouchers *
On site testing **
Accommodation, all meals, unlimited beverages, snacks and tea / coffee***
Transportation to/from designated local railway stations
Examination Passing Policy
Please note
*Examination vouchers are not included for the following courses: PMP, CAPM, CISA, CISM, CGEIT, CRISC and CISSP CBK Review
**On site testing is not included in our PMP, CISA, CISM, CGEIT, CRISC, or ITIL Managers and Revision Certifications
***Accommodation not included on the CISSP CBK Review Seminar
Our instructors teach to accommodate every student's learning needs through individualised instruction, hands-on labs, lab partner and group exercises, independent study, self-testing, and question/answer drills.
Firebrand Training has dedicated, well-equipped educational facilities where you will attend instruction and labs and have access to comfortable study and lounging rooms. Our students consistently say our facilities are second-to-none.
Examination Passing Policy
Should a student complete a Firebrand Training Program without having successfully passed all vendor examinations, the student may re-attend that program for a period of one year. Students will only be responsible for accommodations and vendor exam fees.
You should be familiar with IT security best practices, the basics of TCP/IP networking, and basic programming concepts. You should also be familiar with Metasploit and VMware.
Knowledge of programming languages isn't necessary, but it is beneficial if you have exposure to a common programming or scripting language such as Python, Perl, Ruby, C, C++, or Assembly. A programming background is not required, but you will be writing lots of code in class.