The EC-Council Centre of Advanced Security Training has arrived at Firebrand Training. This three-day Digital Mobile Forensics Deep Dive course is intensive, and provides you with the knowledge and practical skills for performing mobile forensic investigations. You will learn vendor-neutral digital forensic principals, with focus on Apple OS, Google Android, RIM Blackberry and other mobile devices and operating systems.
Warning: This is not a beginner's course. You'll spend 80% of the course in hands-on labs. The course is right for you if you are responsible for designing, securing, implementing and / or supporting smart mobile devices.
You will learn about:
Digital forensic fundamental and legal practices
Mobile hardware design: iPhone, Blackberry, Android & other devices
Mobile software design, and the boot process for smart devices
Mobile device storage
Evidence acquisition, analysis and reporting
Mobile forensic hardware & software
Cryptography, steganography, malware and password recover techniques
Court-approved evidence collection and documentation
Note: this course doesn't include an exam, but you'll become Digital Mobile Forensics Deep Dive certified.
Accredited Training Centre of the Year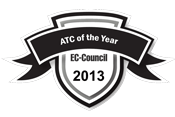 Firebrand Training has again won the EC-Council Accredited Training Centre of the Year Award, from a Training Partner network that has more than 450 training centres across 70 countries.
Jay Bavisi, President of EC-Council said: "The annual EC-Council Awards highlights the commitment and achievements of our global partners and trainers that have contributed to the information security community."
Other accelerated training providers rely heavily on lecture and independent self-testing and study.
Effective technical instruction must be highly varied and interactive to keep attention levels high, promote camaraderie and teamwork between the students and instructor, and solidify knowledge through hands-on learning.
Firebrand Training provides instruction to meet every learning need:
Intensive group instruction
One-on-one instruction attention
Hands-on labs
Lab partner and group exercises
Question and answer drills
Independent study
This information has been provided as a helpful tool for candidates considering training. Courses that include certification come with a certification guarantee. Pass first time or train again for free (just pay for accommodation and exams on your return). We do not make any guarantees about personal successes or benefits of obtaining certification. Benefits of certification determined through studies do not guarantee any particular personal successes.
Module1: Digital Forensic Fundamentals And Legal Practices
Best Evidence Rules
Standard Advisable Forensic Practices
Technical Aspects of Mobile Forensics (What are the challenges)
Trace, Seize and investigate – Cyber Crime Case Scenarios
Module 2: Mobile Hardware Design For: iPhone, BlackBerry, Android And Other Devices
iDevice teardown schematics (Ipad, Iphone and Ipad)
Android teardown schematics (HTC and Samsung)
Blackberry Bold teardown
Standard designs of other mobile devices.
Module 3: Mobile Software Design And The Typical Boot Process For Smart Devices
Apple History and Mobile Architecture vs OSX
UI Framework IOS
IOS Kernel Design
Jail-breaking and Rooting
Module 4: Mobile Device Storage And Evidence Acquisition Techniques
Recovery Toolkit and SDK Software for Apple and Android
Technical Procedures
Passcode Protection and bypassing it
Module 5: Mobile Forensic Hardware And Software Field Kits DIY
DIY Toolkit Options and costs
Commercial Comparisons
Pros and cons of open source
Field Kit Review and best practices
Module 6: Forensic Software, Evidence Analysis And Reporting
What you need to complete your evince analysis
Unix Commands
User and System Media Partitions
Data Carving and slack space
Deleted Item Recovery
Module 7: Cryptography, Steganography, Malware And Password Recovery Techniques
Advanced Stealth or hidden evidence.
Steganography Application
Malware and Spyware
Cracking Passwords
Module 8: Court Approved Non-Standard Evidence Collection Deviations
NIST Publications
Deviation Rules
Statistical Hypothesis
NIST Tool Test Procedures
Module 9: Final Report - Evidence Documentation
Evidence Categories
Evidence Tampering
Best Evidence Rule
Documentation Reporting evidence
Official EC-Council Courseware
CAST 612 - Digital Mobile Forensics Deep Dive
Firebrand Training offers top-quality technical education and certification training in an all-inclusive course package specifically designed for the needs and ease of our students. We attend to every detail so our students can focus solely on their studies and certification goals.
Our Certification Programmes include:
Intensive Hands-on Training Utilising our (Lecture | Lab | Review)TM Delivery
Comprehensive Study Materials, Program Courseware and Self-Testing Software
Fully instructor-led program with 24 hour lab access
Examination vouchers *
On site testing **
Accommodation, all meals, unlimited beverages, snacks and tea / coffee***
Transportation to/from designated local railway stations
Examination Passing Policy
Please note
*Examination vouchers are not included for the following courses: PMP, CAPM, CISA, CISM, CGEIT, CRISC and CISSP CBK Review
**On site testing is not included in our PMP, CISA, CISM, CGEIT, CRISC, or ITIL Managers and Revision Certifications
***Accommodation not included on the CISSP CBK Review Seminar
Our instructors teach to accommodate every student's learning needs through individualised instruction, hands-on labs, lab partner and group exercises, independent study, self-testing, and question/answer drills.
Firebrand Training has dedicated, well-equipped educational facilities where you will attend instruction and labs and have access to comfortable study and lounging rooms. Our students consistently say our facilities are second-to-none.
Examination Passing Policy
Should a student complete a Firebrand Training Program without having successfully passed all vendor examinations, the student may re-attend that program for a period of one year. Students will only be responsible for accommodations and vendor exam fees.
Warning: This is not a beginner's course. You'll spend 80% of the course in hands-on labs. The course is right for you if you are responsible for designing, securing, implementing and / or supporting smart mobile devices.
You should have:
An understanding of the fundamental principles and processes for digital forensics
An understanding of evidence acquisition, examination analysis and final reporting
EC-Council CHFI certification or equivalent knowledge
CompTIA A+ certification or equivalent knowledge
CompTIA Network+ certification or equivalent knowledge