The EC-Council Centre of Advanced Security Training has arrived at Firebrand Training. This three-day Advanced Network Defense course is intensive, and will make you think like a hacker. You will learn how to defend against the latest attacks.
Warning: This is not a beginner's course. You'll be expected to know how to attempt attacks against many platforms and architectures. The instructor will challenge you to attack a device or system, then you will learn how to defend against it. The course is right for you if you're a: firewall administrator, system architect, or system / Windows administrator.
You will learn:
How to identify security weaknesses in computer systems or networks, before it's too late
How to use hacking and pen testing to defend against various attacks
Best practices in developing secure system and network configurations
How to deploy machines in a protected state
Techniques critical to the protection of your entire enterprise against some of today's most advanced threats
How to detect malware
Note: this course doesn't include an exam, but you'll become Advanced Network Defense certified.
Accredited Training Centre of the Year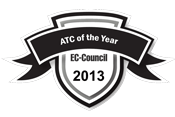 Firebrand Training has again won the EC-Council Accredited Training Centre of the Year Award, from a Training Partner network that has more than 450 training centres across 70 countries.
Jay Bavisi, President of EC-Council said: "The annual EC-Council Awards highlights the commitment and achievements of our global partners and trainers that have contributed to the information security community."
Other accelerated training providers rely heavily on lecture and independent self-testing and study.
Effective technical instruction must be highly varied and interactive to keep attention levels high, promote camaraderie and teamwork between the students and instructor, and solidify knowledge through hands-on learning.
Firebrand Training provides instruction to meet every learning need:
Intensive group instruction
One-on-one instruction attention
Hands-on labs
Lab partner and group exercises
Question and answer drills
Independent study
This information has been provided as a helpful tool for candidates considering training. Courses that include certification come with a certification guarantee. Pass first time or train again for free (just pay for accommodation and exams on your return). We do not make any guarantees about personal successes or benefits of obtaining certification. Benefits of certification determined through studies do not guarantee any particular personal successes.
Module 1: Firewalls
Firewalls
Firewall Types: Stateless Packet Filters
Improving Device Remote-Access Security
Locking Down the Console Port
Protecting Terminal Lines
Establishing Encrypted Communications
Configuring HTTPS
Configuring SSH
LAB: Securing the Perimeter
Module 2: Advanced Filtering
Advanced Filtering Techniques
Ingress Filtering
Egress Filtering
Source Address Verification (SAV)
uRPF
Additional Filtering Considerations
Time-Based ACLs
Reflexive ACLs
Reflexive ACL vs. Static ACL
Context-Based Access Control (CBAC)
Essential Steps to Harden Routers
LAB: Advanced Filtering
Module 3: Firewall Configuration
Firewall Types: Stateful Packet Filters
Application Proxies
Application Proxies vs. Stateful Packet filters
Web Application Firewalls
Web Application Firewall Types
Web Application Firewall Products
Firewall Architecture
Screened Subnet Firewall
The Classic Firewall Architecture
Belt and Braces Firewall
Separate Services Subnet
Fortress Mentality
De-parameterization
Perimeter Configuration
LAB: Selecting a Firewall Architecture
Module 4: Hardening: Establishing a Secure Baseline
Windows NT/2000/2003 and XP
Windows 2000/2003/XP
Windows 2003
Windows Vista
Server 2003 Architecture
Broken Kernel
Modes of the OS
UNIX/Linux
Secure Server Guidelines
Hardening Systems
Security Compliance Manager
Device Security
Essential Steps to Harden Switches
LAB: Hardening
Windows Server 2008 Security (Part I)
Server 2008 Components
Enterprise Protection
AD RMS
AD RMS Components
EFS
EFS Enhancements in Server 2008
EFS Best Practices
LAB: Server 2008 Lab
Windows Server 2008 Security (Part II)
IPsec Rules
Firewall Scripting
netsh
Isolating a Server
Group Policy Object
Server Isolation Steps
Domain Isolation
Domain Isolation Issues
Best Practices
Trusted Platform Module
Wave Systems
TPM Architecture
Crypto API
Example
Embassy Server Software
Embassy Client Software
Self-Encrypting Drives
LAB: TPM
Module 5: Intrusion Detection and Prevention
Why Intrusion Detection?
Fortress Mentality
Intrusion Detection 101
What is Intrusion Detection?
False positives!
Topology concerns
Recommended in most circles
Realistic
Intrusion Prevention
Types of IPS
Host-Based Intrusion Prevention Systems
Host-Based Intrusion Prevention Systems
LAB: Intrusion Detection
Module 6: Protecting Web Applications
Top 10 www.owasp.org
Injection Flaws
Cross Site Scripting
Broken Authentication
Insecure Cryptographic Storage
Reverse Engineering Web Apps
Tools
Hackbar
Tamper Data
The Two Main Attacks for Web
XSS
SQL Injection
xp_cmdshell
There is More
More Tools
SQL Inject Me
XSS ME
Choose The Right Database
Practice, Practice, Practice
Tutorials
Mutillidae
Web Application Firewalls
Components of Web Application Firewall
LAB: Protecting Web Apps
Module 7: Memory Analysis
Data Types Revisited
Volatile
System date and time
Current network connections and Open ports
Processes that opened ports
Cached NetBIOS Names
Users Currently Logged On
Internal routing
Running Processes
Pslist
Trivia
Pslist –t
Tasklist
Tlist
Running Services
Open Files
Process Memory Dumps
LAB: Memory Analysis
Module 8: Endpoint protection
Introduction to NAC
NAC Defined
NAC General Architecture
NAC General Architecture Illustrated
NAC Concepts
Inline NAC
Out-of-Band
Identifying NAC Requirements
Implementing User-Based Identity Access Control
Network Access Protection (NAP)
NAP Components
NAP Enforcement
NAP Best Practices
802.1x
EAP Explained
LAB 1: Network Access Protection with DHCP
LAB 2: Network Access Protection with IPsec
LAB 3: Endpoint Protection
Module 9: Securing Wireless
Wireless Tools
Wireless Vulnerabilities Summary
MAC Filtering
Hiding Access Points
Hijacking
Jamming
Identifying Targets
Wardriving
Sniffing on Wireless
Attacking Encrypted Networks
Wep Data
The other case
Reality
WPA Tools
WPA
LEAP
Asleap
Comparison
LAB: Securing Wireless
Official EC-Council Courseware
CAST 614 - Advanced Network Defense
Firebrand Training offers top-quality technical education and certification training in an all-inclusive course package specifically designed for the needs and ease of our students. We attend to every detail so our students can focus solely on their studies and certification goals.
Our Certification Programmes include:
Intensive Hands-on Training Utilising our (Lecture | Lab | Review)TM Delivery
Comprehensive Study Materials, Program Courseware and Self-Testing Software
Fully instructor-led program with 24 hour lab access
Examination vouchers *
On site testing **
Accommodation, all meals, unlimited beverages, snacks and tea / coffee***
Transportation to/from designated local railway stations
Examination Passing Policy
Please note
*Examination vouchers are not included for the following courses: PMP, CAPM, CISA, CISM, CGEIT, CRISC and CISSP CBK Review
**On site testing is not included in our PMP, CISA, CISM, CGEIT, CRISC, or ITIL Managers and Revision Certifications
***Accommodation not included on the CISSP CBK Review Seminar
Our instructors teach to accommodate every student's learning needs through individualised instruction, hands-on labs, lab partner and group exercises, independent study, self-testing, and question/answer drills.
Firebrand Training has dedicated, well-equipped educational facilities where you will attend instruction and labs and have access to comfortable study and lounging rooms. Our students consistently say our facilities are second-to-none.
Examination Passing Policy
Should a student complete a Firebrand Training Program without having successfully passed all vendor examinations, the student may re-attend that program for a period of one year. Students will only be responsible for accommodations and vendor exam fees.
Warning: This is not a beginner's course. You'll be expected to know how to attempt attacks against many platforms and architectures. The instructor will challenge you to attack a device or system, then you will learn how to defend against it. The course is right for you if you're a: firewall administrator, system architect, or system / Windows administrator.
You must be familiar with IT security best practices, and have a good understanding of programming logic and common web technologies, as well as binary applications:
Basic Windows administration for servers and workstations
Basic Linux/NIX system administration skill
Basic command line proficiency on both Windows and NIX systems
Ideally, the you'll be EC-Council CEH or ECSA certified - or have the equivalent experience.