CompTIA
| | | | | | |
| --- | --- | --- | --- | --- | --- |
| | | 4 Days | | | |
| | | 7 Days | | | |
| | | 3 Days | | | |
| | | 2 Days | | | |
| | | 3 Days | | | |
| | | 7 Days | | | |
| | | 6 Days | | | |
| | | 3 Days | | | |
| | | 4 Days | | | |
| | | 3 Days | | | |
| | | 3 Days | | | |
| | | 2 Days | | | |
Why Firebrand?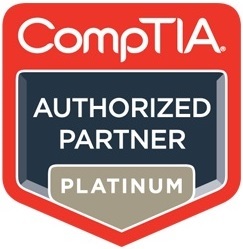 Firebrand Training is an Authorized Partner of the Computing Technology Industry Association (CompTIA). This means that we have access to the latest official curriculum, and the best instructors. We offer an ever-growing offering selection of CompTIA certifications, including all of those listed below.
Firebrand Training has accelerated the CompTIA courses with an aim to offer them twice as fast as anyone else:
Use the roadmap below to plan your career. Confused? Give us a call and we'll talk you through it.