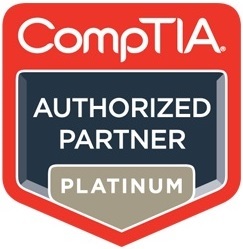 Firebrand Training is an Authorized Partner of CompTIA. This means that you are guaranteed the highest level of instructor and course material, all of which is officially approved by CompTIA.
New to IT? Get your CompTIA A+/N+ and Microsoft MCDST in one shot and save more than 33%. Call us to find out how to give your career a kick-start.
The goal of this seven-day accelerated bootcamp-style course is to provide professionals with the basic hardware, software, and networking skills necessary to function in an variety of information technology positions The CompTIA A+/Network+ Certification is the premier accreditation that validates the skills required to excel in the role of a computer technician or support professional. The CompTIA A+/Network+ Certification demonstrates that an individual possesses the knowledge and skills necessary to configure and operate a variety of networking products.
Combined, the A+ and Network+ certifications are backed by major computer hardware and software vendors, distributors, resellers and publications.
Firebrand Training's program for the CompTIA A+/Network+ Certification affords students the ability to live, learn, and take the actual CompTIA exams on-site at our education centres in the UK and Europe.
Our program is delivered in a distraction-free, immersed environment with on-site, modern accommodation - utilising a curriculum adapted specifically for accelerated learning. Our instructors are cross-certified industry professionals (ranging from renowned authors to senior information technology consultants) with extensive real-world knowledge that is effectively relayed throughout the program.
Instructors are available at all times to provide individual and group attention, lead lab exercises and practice sessions, and ensure the students' success. Our attention to detail shows in our unsurpassed instruction and customer service, our classroom and testing facilities, and our individual and corporate success stories.
From the skilful crafting of our unique curriculum to our careful selection of courseware to every detail of your training comfort, Firebrand Training is the best way to obtain your CompTIA A+/Network+ Certification. Other training providers cannot match our commitment to quality instruction-led training and top-notch educational facilities.
You can also get the CompTIA A+ or Network+ certifications, on our separate accelerated courses.
The CompTIA A+/Network+ Certification is an internationally recognised certification that teaches hardware and software skills. It is developed directly from the CompTIA A+ and reflects the type of skills that are needed to excel in the role of a Desktop Support Professional. Network+ certification proves that you have the knowledge and skills necessary to install, manage and troubleshoot a variety of networks on any platform.
Reasons for CompTIA A+/Network+ Certification include career advancement, personal improvement, skills enhancement, and higher salaries.
CompTIA Certifications tend to lead to higher wages.
Increased customer satisfaction and decreased support costs through improved service, increased productivity and greater technical self-sufficiency.
Excellent return on training and certification investments by providing a standard method of determining training needs and measuring results.
Reliable benchmark for hiring, promoting and career planning.
Recognition and rewards for productive employees by validating their expertise.
Our primary goal is your education. Firebrand Training provides thorough instructor-led training to ensure that you learn the fundamentals, obtain hands-on skills, and earn your CompTIA A+/Network+ Certification. You will emerge able to immediately apply your new knowledge in your career environment.
Firebrand Training provides thorough instructor-led training to ensure that you learn the fundamentals, obtain hands-on skills and earn your certification. You will emerge able to immediately apply your new knowledge in your career environment.
CompTIA A+/Network+ Certification Courseware
Firebrand Training uses CompTIA courseware for the highest standard training of A+ and Network+ certified professionals. Each delegate will be provided with comprehensive course manuals which will become a useful post course support aid.
Through lecture, group discussion, and lab work, you will learn the following concepts and skills:
Personal Computer components
Motherboards
Processors
Memory
Storage devices
Peripheral devices
Sound and video devices
Power supplies
Laptops and portable devices
Operating systems
Windows versions and features
Installing and upgrading windows
Windows administrative tools
Windows disk and file management
Configuring windows
Optimising windows
Operational Procedures
Communication and professionalism
Troubleshooting techniques
Safety and environmental issues
Security
Mobile devices
Basic features of mobile operating systems
Hardware differences
Securing mobile devices
Installation, troubleshooting and maintenance
Preventative maintenance
Installing and configuring components
Windows startup and recovery
Troubleshooting windows
Troubleshooting components
Upgrading and troubleshooting laptops
Networks and printing
Networking fundamentals
Installing and configuring local networks
File sharing and data security
Configuring Internet access
Troubleshooting network links
Troubleshooting network applications
Configuring malware protection
Printers
How networks work
The OSI 7 layer model
The TCP/IP model
Network Media
Coaxial cable
Twisted-pair cabling
Optical fiber
Wireless media types
Network topologies and standards
The bus topology and Ethernet
The star bus topology
Ring and other topologies
Network Hardware
Network interfaces
Repeaters hubs and bridges
Switched Ethernet
Connecting Ethernet segments
Routers
Wireless access points
TCP/IP
The TCP/IP Protocol suite
IPv4 addressing
CIDR and subnetting
IPv6 addressing
Domain name system
Routing
Routing tables
Network address translation
Dynamic routing
Virtualisation
Virtual lans
Virtual computing
Virtualisation in modern networks
Wide Area Networking
Telephony and beyond
The last mile (DSL etc)
Using Remote access
Network Security
Common threats
Securing user accounts
Firewalls
Securing remote connections
The complete network
Designing and implementing a SOHO network
Implementing a wireless network
Specialised network devices
Network configuration management
Troubleshooting networks
The troubleshooting process
Troubleshooting network hardware
Testing equipment
Network utilities and optimisation
TCP/IP utilities
Troubleshooting network performance
Monitoring networks
Frequently asked questions
Q. What's on the CompTIA A+ exam?
A. There are two exams you must take in order to gain the CompTIA A+ certification:
220-801 – Essentials
220-802 – Practical application
These exams were updated in October 2012 and have become performance based questions. Mike Meyers, Author of CompTIA A+ Certification All-in-One Exam Guide spoke to us about the new changes to the exams. You can watch Mike Meyers explain the new A+ exams here.
Q. What does the CompTIA A+ exam cost?
A. Exam vouchers for the A+ and Network+ courses are included in the course. You can view the course fees on our price list page.
Q. Are there any example CompTIA A+ exam questions and CompTIA Network+ exam questions?
A. Yes. We offer a free CompTIA Network+ and CompTIA A+ test at our practice-test page. You can also find Network+ exam tips on our blog post: Network+ Exam Tips.
The CompTIA A+ Certification consists of:
CompTIA A+ Essentials, exam code 220-801
CompTIA A+ Practical Application, exam code 220-802
The CompTIA Network+ Certification consists of:
CompTIA Network+ Exam: N10-005
The objectives are in two distinct groups: Knowledge of Networking Technology and Knowledge of Networking Practices. The exam consists of 65 to 100 questions and a maximum allowable time of 120 minutes.
Books provided for free on the course
CompTIA A+ Complete Review Guide: Exams 220-801 and 220-802 from Sybex - ISBN: 9781118324080
Mike Meyers' CompTIA Network+ Certification Passport, 4th Edition (Exam N10-005) - ISBN: 9780071789059
Students who are successful in the CompTIA A+/Network+ Certification course should possess:
Experience building a computer and setting up devices in Windows OS
Knowledge of how to set up and an understanding of home networks (ISP connections)
Familiarity of the Windows desktop Environment (Windows 95, 98, NT, 2000, and XP)