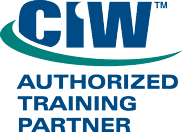 Firebrand Training is a CIW Authorized Training Partner. This means that you are guaranteed the highest level of instructor and course material, all of which is officially approved by CIW.
Internet.com recommends CIW as one of its Top 5 Certifications that put Web Developers on the Fast Track. Don't get left behind.
With over 130,000 certified professionals, the CIW (Certified Internet Web Professional) program is the world's fastest growing vendor-neutral Internet certification for the knowledge economy. CIW is a web technology standard adopted by academic institutions, governments, and businesses worldwide.
Master CIW Designers develop and maintain web sites using authoring and scripting languages, create content and digital media, and employ standards and technologies for both business-to-business and business-to-consumer e-commerce sites. Master CIW Designer certification can lead to a successful career as a web designer, creative director, online marketing/business specialist or art director.
This twelve day accelerated course will train you for and test you in the following certifications:



Our Master CIW Designer certification program:
Allows you to achieve your certifications in a fraction of the time of 'traditional training' while delivering industry-leading exam passing percentages
Helps students grasp complex technical concepts more easily by identifying and catering to individual student learning styles through a mixed visual, auditory and kinaesthetic-tactual delivery system
Enhances retention by employing accelerated learning techniques focused on committing information to long-term memory
You'll have the opportunity to build your own website throughout the course, with the help of a web professional.
Having proof of your skills and knowledge gives you the edge over other candidates when applying for a job. Here are some additional benefits of earning the CIW Master Designer credential:
Independent validation of achievement of a level of competency accepted and valued by the industry
Proven understanding of fundamental Internet-related practices
Increased knowledge, leading to increased job satisfaction
Well-defined career path, leading to higher level certifications
Proof of transferable skills and a solid credential, which make you more marketable
Who Should Earn a CIW Certification?
CIW job-role certification is important for all types of IT professionals, from career changers and business professionals to experienced and certified IT professionals.
Career changers
CIW certification is an excellent way to enter the IT industry because vendor-neutral skill certifications address the roles and responsibilities of a specific position. CIW focuses on industry standards, and leading hardware and software technologies. Career changers are not limited by knowledge of only one IT platform.
Business professionals
A CIW certification demonstrates knowledge of industry standards, best practices, and leading hardware and software technology. Taking the time to learn new IT concepts shows a commitment to keep pace with today's technology-driven economy, to better understand a customer's business, and to become more self-sufficient by better understanding the technology on which almost every professional relies.
Internet Business Foundations
Internet Business Foundations prepares students to work effectively in today's business environment. In this course, students will learn about the tasks involved in various Information Technology (IT) job roles. Students will also learn about Internet connection methods, Internet protocols and the Domain Name System (DNS). Students will study the basic functions of Web browsers, the components of Web addresses and the use and control of cookies. Students will learn how plug-ins can improve their Web browsing experience, and Students will use browsers to download and manage files. Students will learn about databases as they relate to Web search engines, and Students will use search engines to conduct basic and advanced Web searches. This course also teaches Students to configure email clients and use e-mail, and it provides guidelines for communicating effectively over the Internet via e-mail and other social networking methods such as instant messaging, blogs, Twitter and convergent technology applications. Students will learn about the risks associated with being connected to the Internet, and about the security measures that can keep their system and their personal information secure. Finally, Students will study the fundamental elements of project management and the importance of acquiring these skills for all IT job roles.
Topics:
Introduction to IT Business and Careers
Introduction to Internet Technology
Web Browsing
Multimedia on the Web
Databases and Web Search Engines
E-Mail and Personal Information Management
Internet Services and Tools
Internet Communication
Internet Security
IT Project and Program Management
Site Development Foundations
Site Development Foundations teaches students essential Web page development skills. Students will learn to develop Web sites using Hypertext Markup Language (HTML) and Extensible HTML (XHTML). Students will learn to write code manually, as well as use graphical user interface (GUI) authoring tools. Students will also learn to insert images, create hyperlinks, and add tables, forms and frames to their Web pages. In addition to learning about XHTML and HTML coding, Students will learn about CGI and use it to connect Web pages to databases. Other topics include validating their XHTML code, recognizing the importance of marketing, and implementing fundamental design concepts. Throughout the course, Students will learn how Web sites are developed as managed projects. Students will also identify ecommerce solutions and relate Web site development to business goals. Site Development Foundations provides an introduction to tasks, job roles and careers in Web development. This course will teach students to work as a productive part of a Web site development team.
Topics:
Introduction to Web Site Development
Markup Language and Site Development Essentials
XHTML Coding
Horizontal Rules and Graphical Elements
Hyperlinks
HTML Tables
Web Forms
Image Techniques
HTML Frames
GUI HTML Editors
Advanced Web Technologies
E-Commerce Practices
Network Technology Foundations
Network Technology Foundations teaches essential networking technologies and skills, including TCP/IP, stable network creation, wireless networking and network troubleshooting. Students will learn to use various network components and protocols that enable users to share data quickly and easily. Students will explore the different types of transmission media, and will learn how network architecture and topologies provide for efficient and secure communication. In addition, students will learn about the OSI reference model and its relationship to packet creation, and students will compare and contrast the OSI model with the Internet architecture model. Students will study the functions and features of internetworking server types, and learn about the benefits of implementing a Content Management System (CMS). Students will also achieve competency in performing basic hardware and operating system maintenance procedures. In addition, students will learn about mobile computing devices and the importance of RFC documents. Students will also learn about the importance of routing, and will explore IP addressing, IP address classes and subnet masks. Finally, students will explore essential network security concepts, Internet-based challenges facing today's users, and methods students can use to secure networks and network transmissions, including authentication, encryption and firewalls.
Topics:
Introduction to Networking
TCP/IP Suite and Internet Addressing
Internetworking Servers
Hardware and Operating System Maintenance
Network Security and Personal Privacy Protection
Design Methodology and Technology
Design Methodology and Technology teaches you how to design and publish Web sites. General topics include Web Site Development Essentials (such as the site development process, customer expectations, and ethical and legal issues in Web development), Web Design Elements (such as aesthetics, the site user's experience, navigation, usability and accessibility), Basic Web Technologies (such as basic Hypertext Markup Language [HTML], Extensible HTML [XHTML] and extended technologies, image files, GUI site development applications, site publishing and maintenance) and Advanced Web Technologies (such as multimedia and plug-in technologies, client-side and server-side technologies, and Web databases).
Topics:
Overview of Web Design Concepts
Web Development Teams
Web Project Management Fundamentals
Web Site Development Process
Web Page Layout and Elements
Web Site Usability and Accessibility
Browsers
Navigation Concepts
Web Graphics
Multimedia and the Web
Ethical and Legal Issues in Web Development
HTML and the Evolution of Markup
XML and XHTML
Web Page Structure — Tables and Framesets
Cascading Style Sheets
Site Content and Metadata
Site Development with Microsoft Expression Web 3 — Introduction
Site Development with Microsoft Expression Web 3 — Basic Features
Site Development with Microsoft Expression Web 3 — Advanced Features
Site Development with Adobe Dreamweaver CS5 — Introduction
Site Development with Adobe Dreamweaver CS5 — Advanced Features
Creating Web pages using Open-Source Tools
Image Editing with Adobe Fireworks CS5
Multimedia with Adobe Flash CS5 — Timeline, Layers, Symbols and Buttons
Multimedia with Adobe Flash CS5 — Tweens
Multimedia with Adobe Flash CS5 — Movie Clips
Multimedia with Adobe Flash CS5 — ActionScript, Masks and Practical Uses
JavaScript and DHTML Fundamentals
Plug-Ins and Java Applets
HTTP Servers and Web Applications
Databases
Web Site Publishing and Maintenance
E-Commerce Strategies and Practices v5.1
E-Commerce Strategies and Practices teaches you how to conduct business online and manage the technical issues associated with constructing an e-commerce Web site. You will learn about the similarities and differences between traditional and electronic commerce, and will explore e-commerce technologies at various levels of sophistication.
Topics:
Electronic Commerce Foundations
Law and the Internet
Web Marketing Goals
Online Product Promotion
Site Usability
Customer Relationship Management (CRM) and E-Services
Business-to-Business Frameworks
E-Commerce Site Creation Packages — Outsourcing
E-Commerce Site Creation Software
Site Development Software Implementation
E-Commerce Site Development Using Commerce Server
Creating an Online Catalog
Inventory Control and Order Processing
Payment Gateways
E-Service Implementation and Support
Transaction and Web Site Security
E-Learning Solutions
Site Management and Performance Testing
During the course you will be trained for, and sit the following exams:
CIW v5 Foundations - Exam 1D0-510
The CIW Foundations exam validates the basic hands-on skills and knowledge that a professional is expected to understand and use. Foundational skills include basic knowledge of Internet technologies, network infrastructure, Web authoring using XHTML, and job skills such as project management.
CIW v5 Site Designer - Exam 1D0-520
The CIW Site Designer exam validates human-factor principles in designing, implementing and maintaining hypertext-based Web sites using authoring and scripting languages, content creation and management tools, and digital media tools.
CIW v5 E-Commerce Designer - Exam 1D0-525
The CIW E-Commerce Designer exam focuses on standards, technologies and practices for both business-to-business and business-to-consumer e-commerce models. This certification addresses relationships among marketing, promotion, customer service, user interaction, purchasing methods and secure transactions by using SSL and SET, payment gateways, inventory control, shipping and order information, and site performance testing and evaluation.
Official ComputerPrep Courseware
CIW Foundations Student Kit with Course Reviews & Exercises
Design Methodology and Technology: Student Guide with Course Reviews and Exercises
E-Commerce Strategies and Practices: Student Guide
Students who are successful in the Master CIW Designer certification course should possess at least 12 months experience of:
Microsoft Windows XP or Vista
Internet, website design and X/HTML